Caregiver Support Groups in Alaska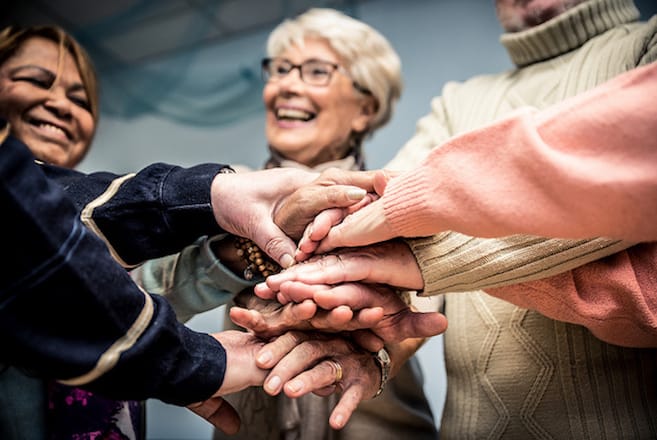 Support groups provide a way for people with a common experience to help and learn from each other. They can be an important source of social and emotional support, as well as a great way to see what works for others and learn about local services. All groups below are free to join.
Many groups below are available statewide over the phone or via Zoom. For this reason, most people find it helpful to identify groups with days and times that work best with their schedule regardless of location.
View upcoming Support Groups on our Calendar:
In addition to the groups below we also offer Mind Matters, an education and support program for individuals with early memory loss.
You might also be interested in our

Facebook support group. This is a closed group and you will be required to request access to join.
📞 phone connection available
💻 Zoom connection available

ARA Facilitator
LOCATION
📅 SCHEDULE
🙋‍♀️ CONTACT
Alaska Statewide
» Care Partner Support
Every 2nd & 4th Tuesday 1-2:00pm
Every 2nd & 4th Saturday 10:30am-12pm
📞/💻
Gay Wellman, 907-822-5620
Alaska Statewide
» Grieving Caregiver Support
Every 1st & 3rd Thursday 1-2:00 pm
📞/💻
Gay Wellman, 907-822-5620
Anchorage
Every 4th Thursday, 5:30-7:00 pm
📞/💻
Debbie Chulick, 907-561-3313
Eagle River
Every 2nd Thursday, 5:30-7:00 pm
📞/💻
Debbie Chulick, 907-561-3313
Fairbanks
Every 2nd Tuesday, 4:30-6:00 pm
Every 3rd Tuesday, 1:00-2:30 pm
📞/💻
Joan Adams, 907-452-2277
Homer
Call for current schedule
Pam Hooker, 907-235-7655
Juneau / Southeast
Call for current schedule
907-463-6177
Ketchikan
Call for current schedule.
Bernice, 907-255-8080
Kodiak
Every 4th Thursday, 12:30-1:30 pm
907-486-6181
Mat-Su Valley
Every 2nd Tuesday, 1:30-3:00 pm
📞/💻
Janice Downing, 907-746-3413
Mat-Su Valley
(Chickaloon, Glacier View,
Palmer, Sutton)
Every 1st Friday, 10-11:30 am
📞/💻
Kim Jung, 907-746-3413
Seward
Every 4th Thursday, 1-2:00 pm
907-244-5604
Sitka
Call for current schedule
907-747-4600
Soldotna
Every 2nd and Last Tuesday, 1-3:00 pm
Every 1st Tuesday, 1-2:00 pm
Dani Kebschull, 907-262-1280
Upper Susitna
(Talkeetna, Willow,
Trapper Creek)
Every 2st Tuesday, 1-2:30 pm
Kim Jung, 907-746-3413